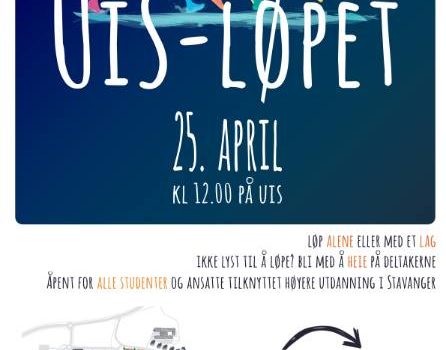 UiS – løpet
https://www.facebook.com/events/1244269762359453/
(English below)
UiS – løpet 2017
Da er det tid for UiS – løpet!
Når: 25. April kl. 12.00
Hvor: Mellom Arne Rettedals hus og Studentenes hus
Hvem kan delta: Alle studenter og ansatte som har en tilknytning til høyere utdanning i Stavanger.
UiS-løpet har nå blitt en tradisjon her på UiS, og vi forsøker enda å gjøre det større. For å klare dette trenger vi mange deltakere og tilskuere. Man kan løpe alene, og løpe sammen med et lag hvor tiden av alle lagkameratene vil bli lagt sammen. Vil du ikke løpe, trenger vi heiagjenger. Så møt opp i stolpetimene 25. April uavhengig om du skal løpe eller ei. I tillegg blir det satt opp ulike stands som deler ut litt godt. Vi kan love god stemning!
Det blir kåring av 1, 2 og 3. Plass for både beste kvinne og beste mann, i tillegg det beste laget.
Hjelp oss å spre ordet til venner og bekjente for å gjøre UiS-løpet til noe studentene kan se frem til hvert år. Desto flere, desto bedre! Vi sees!
Deltakere:
Dere melder dere på med linken nedenfor, og kryss av hvis dere skal løpe med et lag og skriv navnet på laget (Ikke navn på deltakerne). Laget skal være på 5stk. På selve dagen må dere registrere oppmøte på UiSI sin stand, som dere vil se tydelig, her får dere et løpenummer som er viktig å ha for at tiden deres blir tatt. Det blir delt ut vann, saft og frukt på en egen stand til deltakerne etter løpet. Husk å være tidlig ute, løpet starter 12.30.
Påmelding her:
https://goo.gl/forms/xZ9o9TwK9msOtRZa2
Spørsmål? Kontakt arrangement@uisi.no
__________________________________________________
We welcome you to UiS-Løpet/ The Uis-Run
When: 25. April at 12.00
Where: Between Arne Rettedals hus and Studentenes hus
Who can participate: All students and employees, who have a connection to a Uni in Stavanger.
UiS – Løpet has been a tradition on UiS campus, og we are still trying to make it even bigger. To do this we need several participants and spectators. You can run alone, and/or with a team, where the time of all the teammates will be added together. If you don't want to run, we always need a cheering crowd. There will also be different stands to check out. So meet up at 12.00 on 25th if you are going to run or cheer. We promise a good spirit!
There will be prizes for the best team, and 1, 2 and 3. Place for both the best woman and best man.
Help us spread the word to friends, to make this run something the students can look forward to and to continue the tradition. The more, the merrier.
Participants:
There is a link below where you sign in, remember to answer the question if you are running in a team, and write the name of you team (Not the name of your teammates). The team have to be 5 people. When the day arrives, you have to register at our UiSI stand, which you will see clearly; here you will get a running number which is very important regarding the time taking. There will be a booth serving the runners water, juice and fruit. Remember to be early, the run starts 12.30.
Sign in here:
https://goo.gl/forms/xZ9o9TwK9msOtRZa2
If you have any questions contact: arrangement@uisi.no
Resultatliste: